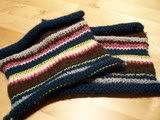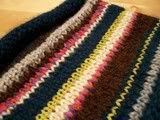 This is a really good project for leftover yarn.  A friend of mine had made this basic pattern a few years ago and rather than using a solid color like she did, I chose to use a variety of colors.   Although it's really, really basic, I always enjoy making things with my friends.
yarn: 5 assorted colors and textures, nothing too bulky.  Because I was using odds and ends, I didn't really measure out how much I was using. 
needles: size 7 rosewood
Cast on 30 stitches, then work a random pattern in stockinette stitch (try random stripe generator, it's really fun).  Continue until piece measures 7 inches, or more if you desire a longer look.  My friend Amber made some really fun elbow-length warmers, a good way to spice up 3/4 length sleeves in the winter.  Cast off, leaving an 8-inch tail.  Fold the completed piece in half.  You will begin to stitch the sides together using a darning needle and extra  yarn.  Use the 8-inch tail to stitch the top 1.5 inches together.  Then begin stitching the opposite end.  You will stitch 4 inches in toward the middle, leaving a 1.5 thumb hole.  
overall: Super easy project, knits up fast, fun to wear. I think if I were to make these again, I would knit in the round.